You know that guitar tone you dream about in your head? The one that seems to come so effortlessly to people like Jimmy Page, Hendrix, Clapton, Joan Jett, Nancy Wilson, and Slash? It's unique, you can pick it out of a stack of records and it's a tone that is sought after by many. For years, I played my 1997 Les Paul studio with the factory pickups. I thought "Gibson cost me $1400, so they must know what to put in a guitar that costs that much". But for just as many years, there was something missing. My tone was muddy on a good day, and a hurricane on a bad one. I needed something....I just didn't know what. Some new pickups perhaps? Some shiny new DiMarzio's or Seymour Duncans? That's what all the big name players seem to be representing in the ads they star in. Then I came across the name MJS.
MJS is a small family-run company based in Mississauga, Ontario, Canada. "Smitty", as he is known to everyone in the GTA and beyond, and his wife Sue run their workshop creating custom guitars and handwound pickups for discerning musicians.
When I first spoke to Smitty on the phone, I knew I was in good hands. When I went to his shop and tested out all of the various pickup combinations he had available, I was sure I was going to go insane. They all sounded so nice.....but which combination was what I heard in my head? Which was the tone I was after for all these years?
After an hour and a half of trying different guitars/pickup combinations, I settled on a overwound (hot) humbucker for the bridge pickup, and a vintage single coil for the neck pickup. (Shhh...don't tell anyone I put a single coil in a Les Paul!) I was a little nervous at first because I didn't know what they would sound like in my guitar. Once they were installed, I was absolutely thrilled!
WOW! A musician can only dream about finally having an instrument that does what he/she wants to when they play it. The muddy quality of my factory pickups was gone! In was the clear sustain of the new MJS handwound pickups and the beefy crunch that came with that humbucker. Now when I chug along on powerchords, there is a definite "chug", not just a tinny, aluminum sounding whimper.
You owe it to yourself as a guitarist to get your pickups upgraded and handwound to the specs that make the most sense for your playing. Stop worrying about labels and who's advertising for the big name companies. Use your ears to make the decision. And if you listen to the possibilities that are available to you at MJS, you'll realize that the upgrade will be some of the best money you have spent on your tone. Then maybe you can work on throwing some of those stompboxes away. :)
As an added bonus, I got to meet my idol Joan Jett a few months prior to this pickup transplant, and since MJS offers the ability to engrave images on pickup covers, I thought I'd ask if they could get Joan's signature that she made out to me engraved on the bridge pickup. Lo and behold, it totally was possible and now I have a sentimental reminder of why I picked up the guitar in the first place, right on my bridge pickup. You can see the results of that below.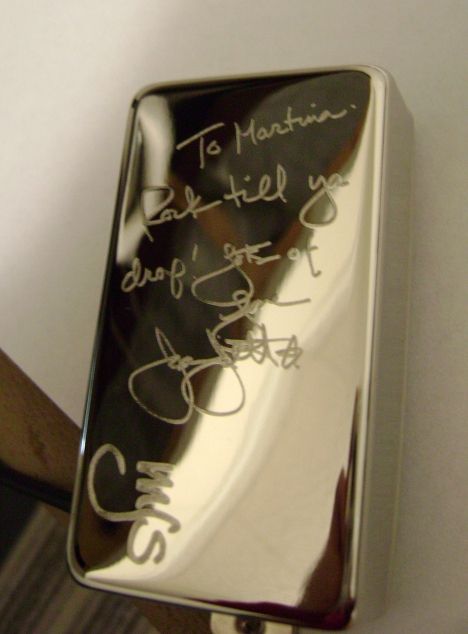 Thanks to Smitty and Sue for the awesome experience and for making my Les Paul Studio into the beast Gibson had intended it to be when they first designed/produced it so many years ago.
Now, run over to the
MJS website
and check them out! You'll be glad you did, and so will your guitar tone. :)